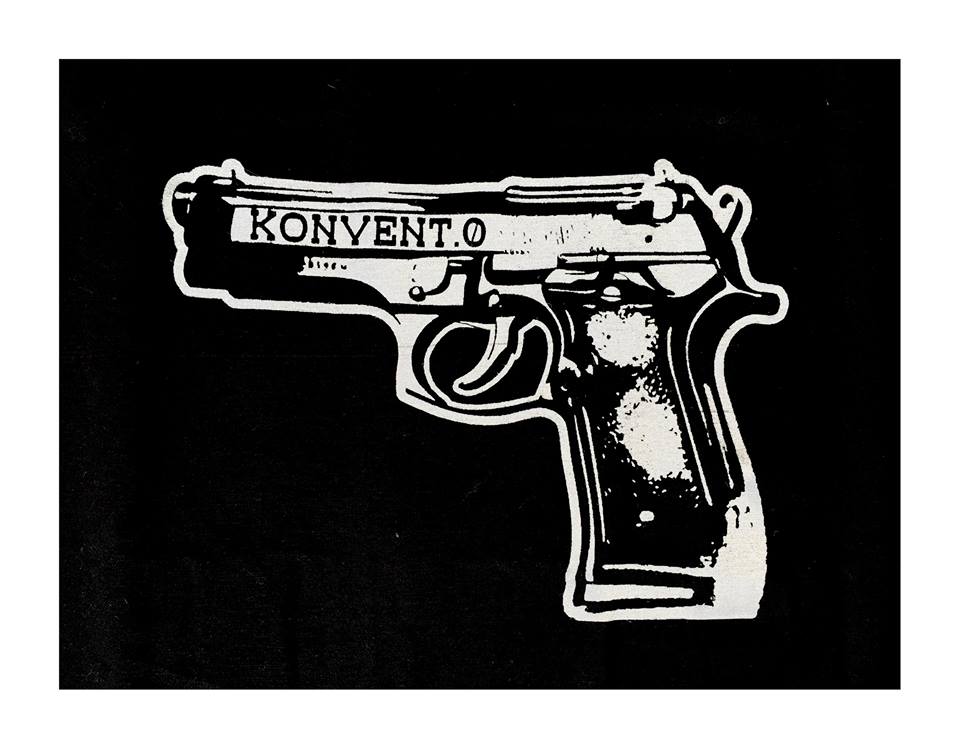 From 22nd Octuber to 4th December 2016
– extended until 18thDecember 2016 –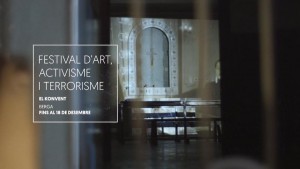 ARTISTS
---
Pussy Riot, Abel Azcona, Nuria Güell, Santiago Sierra, Fernando Pertuz, Riot Über Alles, Javier Pérez Aranda, Josechu Dávila, Maria Cañas, Teresa Margolles, Rafael Burillo, Javier Nuñez Gasco, Daniel Mayrit, Tania Bruguera, Cristina Llanos, Parker Day, Gente Zafia, SEM, Gerard Vilardaga, KonventCuina, Yelena Cvejic, Jose Mas, Javier Olaizola, Colectivo Juan de Madre, Manoli Mansilla, Svreca, Catástrofe Club…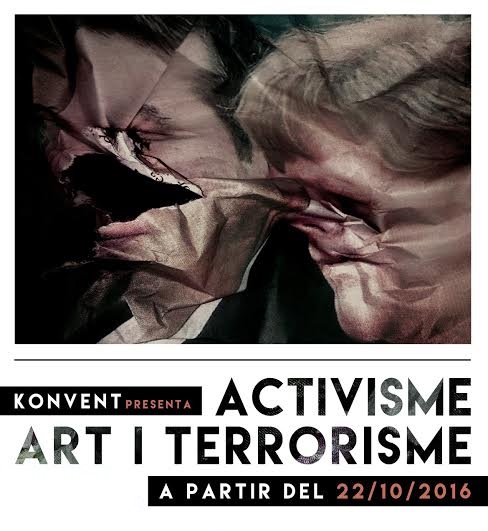 Killing is not a painting, a world press photograph prize or the Mediterranean Sea. The aesthetics of an attack is, without realizing it, our current ism. Normalized images of wars, piles of debris, mutilated, explosions… will be the snapshots that in 50 years, will hang the new temples of art. Now, they only invade social networks. Likes are our aftertaste to the critical feeling.
What will happen from October 22nd overcomes any definition, it is a subversive bet, and also a public challenge and a vital need too. It is a trans-generational conceptual triad, out of time and far away from any physical border. We must be honest, behind each proposal there is a reason: ACTIVISM. Our one always looks ahead with a critical way of seeing and focused against all conventionalism. ART is our big track. We seek for an attitude that defends message expressions without frills, a reveille cooked violently. TERRORISM. We are in alertness, manipulated fear and distinguishable tension. Nothing is easy or pleasant or politically correct. Let's challenge ourselves.
ARTISTS OF THE EXHIBITION
---
JAVIER OLAIZOLA (Rentería, 1961)
I LOVE MANCHESTER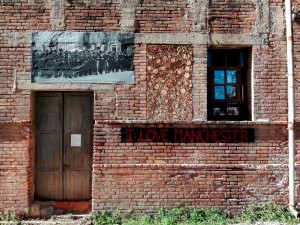 RENTERIA, HERRI BORROKALARI BATEN HISTORIA (1976-1983)
RENTERIA, HISTORY OF A REBEL PEOPLE (1976-1983)
This project is born through the compilation made around the events that took place in Renteria (Basque Country) between the years 1976-1983. The assembly of Rentería and its repercussion was a phenomenon that revolutionized a whole town and allowed us to "dream", until the transition arrived and the dream evaporated. The contribution of Olaizola to the exhibition Art, Activism and Terrorism of KONVENT, is a tribute to the activism, yesterday and today, to the integrity of the people.
Why Manchester? The grandfather of the king Felipe de Borbón baptized Renteria by its great industrial activity like "the little Manchester". In this intervention, the artist uses pine and hazelnut posts, creating a swarm of essences and earth. The large photograph belongs to the mobilization carried out in 1977, due to the death of two people from Rentería. The small images of the window, belong to different mobilizations towards the insumisión in 1990. They are unique photos exits of archives of the newspaper EGIN.
---
MANOLI MANSILLA (Barcelona, 1977)
The Jefferson's sheep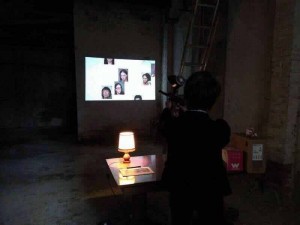 "Well, here comes the time of abstract blood, rigid and frigid" Marques De Sade. (Correspondencia, 1793)
"The Jefferson's sheep" is a great container of potentiality and possibility where these unusual and abominable transformations in the spectator are explored. Its format is video-interviewing. Our objective is to verify how individual perversion happens to be social perversion. For us this is not negative. We want to claim, like Sade, the extra pleasure of being declared infamous. The fact that every universal moral principle is a chimera. How do you get the balance? We do not know the answer. But we know that it is not the utopian and optimistic view that if evil is destroyed, something good will come out of it. We are interested in the duality of people when they operate by instinct. In short, we claim art as nerve irritation.
Manoli Mansilla has a degree in Art History with a Master's Degree in Communication and Criticism from the University of Girona and a degree in Comparative Literature from the University of Barcelona. She started working in the art world like a scholarship holder of the MACBA exhibitions department for a year. She is the executive producer of the first edition of the Hortitzó.tv project for the La Capella Exhibition Hall in Barcelona. He curated and produced several texts for exhibitions by the Japanese artist Hana Chaki and the video artist Pablo Pascual, among others. He has written articles on the Salonkritik website and in the blog of the Audiovisual Communication Studies of the UOC Connexions.cav… In 2014 he founded the photography group PHOTOGÉInKA in Banyoles with the intention of promoting and organizing exhibitions, talks and any other Activity related to the photography that generates a current of contemporary thought and that foments the critical spirit. In June 2016 she received the Ingràvid award for the project "All you need is hate", which can be seen in Sta. Monica (Barcelona) and the Empordà Museum (Figueres).
---
JAVIER PÉREZ ARANDA (Madrid, 1963)
Without name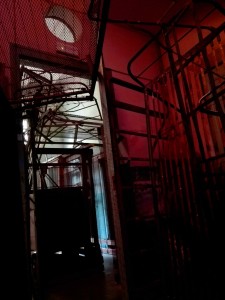 The idea is to make an intervention distributed by the building that is not possible to perceive in its entirety, whose description is problematic, does not know how it will be or if it is finished, if it is one or several pieces and who has or have carried out… and will mutate over the period of the exhibition, even beyond…
It will substantially change the space of passage more traveled for both the Konvent team and the public, making daily activity difficult for a radical aesthetic experience, interacting to a greater or lesser extent with all the other pieces and events that host the festival, everything without damaging or hiding the original architecture and using as main material the old beds originated from the convent, currently in disuse.
Javier Pérez Aranda works with remnants of production and consumption processes in areas where the border between the two activities is blurred. Its living environment is self-generated and regulated based on collection and classification criteria that avoid capitalist valuation hierarchies of goods, productive time or leisure. It carries out site-specific works, in which all this manifests itself in the public space as an extension of the private itself, in the form of large structures of ordering materials and objects left over from activities related to that space, or with its symbology.
---
ABEL AZCONA (Pamplona, 1988)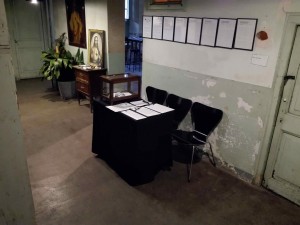 Abel Azcona will install a sign collection booth to request that Opus Dei be declared a terrorist organization by the United Nations Security Council. In the same one, to the service of the public, will be the official document that explains this type of procedures.
Abel Azcona is an spanish interdisciplinary artist specially bonded to performance art, his work, though, explores and focuses great attention to the aesthetic results and is therefore related with mediums such as photography, videoart, installation and sculpture. His art work has been presented in various museums, contemporary art centers, galleries and artistic spaces from countries all over the world.
His work is usually defined under two axises explored between one another through a constant synergy: autobiographical and critical. This makes his work highly heterogenous, and renders it as a personal portrait. This thoughts find in art a tool for criticism, but also a tool for self knowledge that questions reflections about society in which they are involved. Azcona invites the public to share their experience dragging them to his inner world.
---
PUSSY RIOT (Colectivo, Rusia)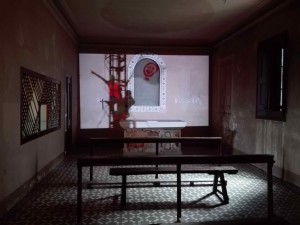 Pussy Riot is a Russian feminist punk rock group formed in August 2011. The group has organized unauthorized shows in Moscow to promote women's rights in Russia and also during Prime Minister Putin's presidential election campaign.
Despite the cold weather, they usually wear light clothing and cover their faces with colorful balaclava, both in concerts and interviews. The group consists of a dozen singers and a dozen other people involved in the technical aspects of the production of videos that are published on the Internet. They themselves comment that they were inspired by the punk-rock Bikini Kill and the Riot grrrl movement of the 1990s.
Three of the young women, Nadejda Tolokonnikova, Maria Aliokhina and Yekaterina Samutsevits, were imprisoned from March 2012 until December 2013, for having improvised on February 21 of the same year a "punk prayer" with the name of "Madre de Dios, echa To Putin "in the Cathedral of Christ the Savior of Moscow.
The indictment asks for up to 7 years in prison for hooliganism. However, almost two years after their incarceration, they were released. There are versions that say it is an attempt to show the world that Russia is a free country shortly before the start of the 2014 Winter Olympics.
On December 19, 2013, the Russian State Duma approved an amnesty which is expected to benefit the two members of the group still imprisoned, Nadejda Tolokonnikova and Maria Aliokhina. The release would occur before the 2014 Winter Olympics in Sochi.
---
TANIA BRUGUERA (La Habana, 1968)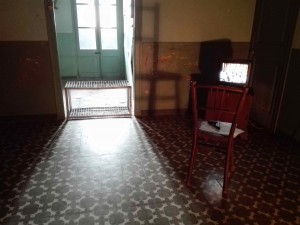 Tania Bruguera is a Cuban artist. In 1997 he moved to Chicago and currently divides his residence between this and his hometown. He studied in the Elementary School of Plastic Arts October 20 and the Higher Institute of Art in Havana and the Institute of Art in Chicago, where he also taught between 2003 and 2010. He has participated in international art events such as Kassel documenta and The biennials of Venice, San Pablo, Shanghai and Havana, among others, as well as museums, galleries and art centers such as Tate Modern, Chicago Museum of Contemporary Art, Santa Monica Museum, Wifredo Lam Contemporary Art Center Havana and New Museum of New York, among others.
His work focuses on his interpretation of political and social issues. To define his artistic practices, he has developed concepts such as the "art of conduct" focused on the limits of language and body confronted with the reaction and behavior of spectators, and also proposes a "useful art" that transforms aspects of society through Of the implementation of art with metaphorical representations in which the audience participates. In 2002 he created the Chair of Art of Conduct in Havana and in 2011 he created the Useful Art Association as platforms for meeting and implementing his projects. His provocative presentations have earned him harsh criticism, even been accused of promoting "resistance and public disorder." In December of 2014 she was detained in Cuba to prevent her from performing, but her actions have also earned her important international recognition, including the Guggenheim Fellowship, the Meadows Prize (Dallas, USA) and the Prince Claus Award, among others.
---
FERNANDO PERTUZ (Colombia)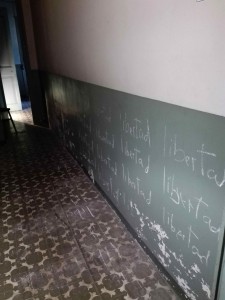 Colombian artist, manager and researcher interested in the relations between art, body and social problems, has been carrying out actions and management since the nineties. Founder and director of the PerfoArtNet International Performance Biennial and the World Performance Archive, ArtOpenFundation.org also runs a foundation dedicated to promoting an art open to the whole world, an art that contributes to the building of society.
His actions in public space, his workshops with communities, the samples he has organized and his writings show a deep interest in the events that happen in our environment, opening spaces that allow reflection and awareness of artists, people, cultural and state entities.
---
SANTIAGO SIERRA (Madrid, 1966)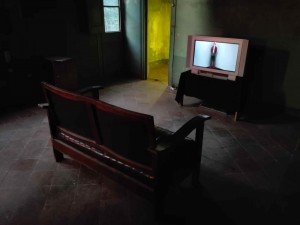 Video of the project VETERANS OF THE AFGHANISTAN, IRAQ AND VIETNAM WAR, FACE TO THE WALL (2013).
The art of Santiago Sierra, full of social and political demands from the outset, seeks to make visible the perversity of power schemes that foster the alienation and exploitation of workers, the injustice of labor relations, the unequal distribution of wealth produced by the capitalist system and discriminations for racial reasons in a world furrowed by unidirectional (south-north) migratory flows.
In 2010 he was awarded with the National Prize of Plastic Arts of Spain granted by the Ministry of Culture "for his critical work, which reflects on the exploitation and exclusion of people, and generates a debate on power structures, as Is manifested in its various projects developed over two decades. " Sierra rejected the award the following day in a letter to the Minister of Culture claiming that "the prizes are awarded to those who have done a service, such as an employee of the month" and that "prize instrumentalizes for the benefit of the state the prestige Of the awarded ", ending with" the State we are not all: The State are you and your friends.
Graduated in Fine Arts from the Universidad Complutense de Madrid, he completed his training in Hamburg (Germany) between 1990 and 1991, where he studied with professors F. E. Walter, S. Browm and B. J. Blume. His beginnings are linked to the alternative artistic circuits of Madrid (The Atomic Eye, Space P), but much of his later career has developed in Mexico (1995-2006) where he expanded his studies in the School of San Carlos University Autónoma de México, and Italy (2006-2010). He currently lives and works in Madrid. He has exhibited in important museums, art centers and galleries around the world, such as the Kiasma Museum of Contemporary Art ARS 01 (Helsinki), Kunst-Werke (Berlin), Kunsthaus Bregenz (Austria), PS1 Of MOMA (New York) or Artium (Vitoria), and his work is represented by important galleries such as Helga de Alvear (Madrid, Spain), Team Gallery (New York, USA), Lisson Gallery (London, UK) Prometeo Gallery (Milan, Italy) and Greenaway Art Gallery (Adelaide, Australia).
---
NURIA GÜELL (Vidreres, 1981)
Fifteen terrorist plans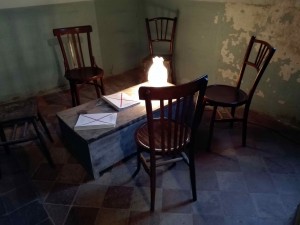 Fifteen terrorist plans is a collective work that consisted of a manual publicity where 15 artists made an intervention. The issue revolves around the Citizen Security Law and the Criminal Code, known as the Gag Law and how to subvert with a "terrorist act" the measures that derive from it. Fifteen terrorist plans is a collective project that uses Art as a space of freedom, from where to propose possibilities to attack the law itself that penalizes freedom of action and expression. A project of Sant Andreu Contemporani, under the care of Nuria Güell.
The participating artists are: Levi Orta, Ignacio García Sánchez, Olalla Gómez, Diego Díez, Guillermo Portillo, Alán Carrasco, Mawa Tres, Lúa Coderch, Sergio Luna y Yasmina Morán, Bárbara Sánchez, Mario Santamaría, Proyecto Atlas (Miguel García, Sergi Selvas e Isadora Willson), Claudia Labrador, Ely Daou and Jesús Jurado.
Núria Güell is a Catalan artist who approaches the limits of legality in her work and analyzes the practice of the institutions that govern us. Flirting with the established powers or privileges of the art world are some of the aspects on which he bases his artistic operations, which he develops as tactics that seek to change the relations of power established.
---
PARKER DAY (Los Angeles)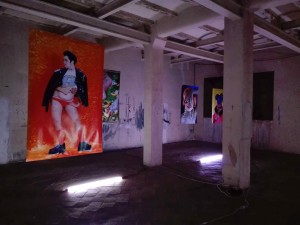 Parker Day is an artist based in Los Angeles. His work explores the identity and masks we wear, focusing on the fictional portrait studio, working exclusively with 35mm impeller. The created world is populated with colorful eccentricities on the sordid side of life. Renounces fantasies "Photoshoperas" taking advantage of the so-called tacas, hair flying and dust in the negatives. This stark realism serves as a counterpoint to refined studio lighting and stylized subjects.
DECLARATION OF THE ARTIST
Parker believes that identity is a moldable construction and that we have the power to dismantle at will.
Through his photography, he explores the idea of ​​the invention of identity. Dress your subjects and make narratives about the characters that will be. When the subject goes beyond what he thinks you are, something more authentic comes to light. It is this presence of real emotion that seeks to capture in the paraphernalia of a manufactured circumstance.
Web
---
JOSECHU DAVILA (Madrid, 1966)
Cancellation of XVII century painting (2005)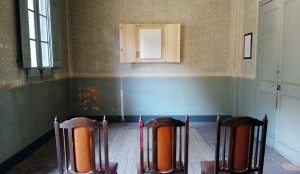 Painting of century XVII covered with painting of white chlorocaucho with irreversible way. The picture, according to semi-inscribed inscription, represented the Pope Burgundy, Nicholas II. The cancellation took place within a Museum of Contemporary Art, before the full presence of its management team, a critic of art and an expert in restoration who, together with the artist and some museum workers, acted as a representation of the art world.
"Every picture is a layer overlay. From the primer of the support to the protective varnish, glazes, regrets, repainting in old paintings… everything is part of the pictorial work in its physical, historical and iconic dimensions. Restorers are faced every day with the dilemma of how much their work must destroy to preserve. Josechu Dávila, in a radical gesture, has applied a last white layer, opaque and irreversible, on a baroque portrait, to which he has condemned to the eternal invisibility preserving it at the same time." Elena Vozmediano
Subtract content input (Francisco de la Calle – Josechu Dàvila, 2002-2010)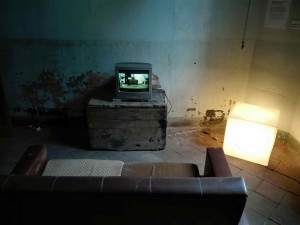 In 2002, I met with my friend Paco letter boxes at the entrance of a portal and took them to the studio that we then shared in Madrid. Later, we realized that the lockers were closed with all the letters of the neighbors unopened, since they had not given them time to change the contents of these mailboxes to the new ones they were installing. As it was too late to return them, we decided to stay with them for some future project.
In April 2004, Paco died and the mailboxes were half-forgotten in my study, with his letters unopened in their locked lockers, just like the first day. Eight years after we took them, in September 2010, the mailboxes were returned at 4 o'clock in the morning at the same portal where they had been taken, and then, quickly, we left the scene.
Josechu Dávila, A renowned and multidisciplinary artist who works with the void, waste and uselessness as references, transforming situations to generate emotions that remain in no one's field.
Video 30 AÑOS SIN HACER NADA – Report of Jesus Alonso together with the Spanish television team, on the work of Josechu Dàvila in recent years.
---
DANIEL MAYRIT (Madrid, 1985)
Authorized Images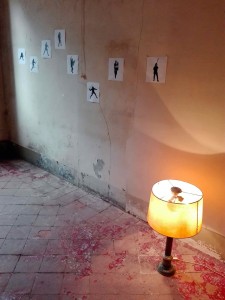 The work is about the Gag Law (Ley Mordaza) and the impossibility of representing the police in images.
Daniel Mayrit received his first degree in Audiovisual Communication from the Universidad Complutense de Madrid and has lived for two years in Copenhagen, Denmark, studying at Copenhagen University. After this stay makes the jump to London, where he graduates in photography from the University of Westminster. He has also been nominated for best book of the year in the festivals of Kassel Fotobook Festival, Les Rencontres d'Arles and PhotoEspaña '15.
As an artist his main interest lies in the relationship between documentary image and fiction and how the interconnections between them affect the way they are perceived by the viewer. Mayrit explores the boundaries between these two practices, resulting in images that are difficult to classify into any of these two categories, thus leaving open questions about whether they have been carefully prepared or have been the product of fortune. To do this, their projects make use of the imaginary coming from different media, from the traditional press to the internet through classical art. Its purpose is not to expose the artificiality of all those languages ​​or processes of imaging, but to question and challenge the preconceptions and expectations of the viewer and invite him in the last stay to be aware of a certain discourse and agenda.
---
COLECTIVO JUAN DE MADRE (Barcelona, 1979)
The Barber and the Superman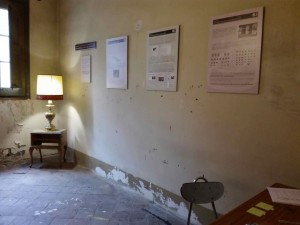 In "The Barber and the Superman" it is narrated the foundation of a terrorist organization governed by boys and girls. One of the operations that would have been carried out, under the motto "A street with cacas is a liberated street", was the manipulation of the system of cloacas so that the physiological wastes of the New Yorkers / os on the streets of the city. This "Eschatological Chimera" is a tribute to the action perpetrated by the members of the childish revolutionary band described in the novel.
Colectivo Juan de Madre is an interdisciplinary playgroup, defines its works as identity games with which to acquire new tools of power. His last literary artifact is "The Barber and the Superman" (Aristas Martínez, 2016), paradigmatic in this regard.
---
RIOT ÜBER ALLES
Interrorism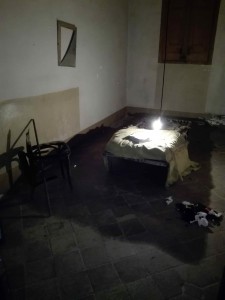 INTERRORISM, theory and practice. Halfway between pure concept and formal aggression.
More than artist, Riot Über Alles Is considered a "politoxicomano ocurrente". He does things because he believes that not doing them "is worse and rather more boring." He currently has five published poems, "The Caustic Plan" (Dance of the Sun, 2005), "Hierro Lamido" (Early Bird Ed., 2008), "Veritas Odium Parit" "(Aristas Martinez, 2011) and" The norms of the Landfill "(This is not Berlin, 2014). In 2013, she published "Lady Grecia" (co-written with Vanity Dust), also hand of ARISTAS MARTINEZ. He has illustrated "El corazón de Julia", a four-handed work written by Robert-Juan Cantavella and Óscar Gual and has been responsible for giving a look – through the cover and its interior illustrations – to the novel by Sebastià Jovani titled "Emet o The Revolt "(Ed. La Magrana, 2012). He has collaborated in the anthologies "Black Pulp Box" (Aristas Martinez, 2012) and "Presencia Humana" (Aristas Martinez, 2012), where he does double as narrator / illustrator.
---
CRISTINA LLANOS (Badajoz, 1981)
Still Life # 5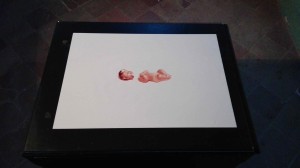 The objects that accompany us throughout our lives are more than just inert bodies. From the moment we decide to keep some yes and others, when we place them in a space or decide to throw them, objects are loaded with hidden meanings, which only their owners know.
The project "Still Lifes" starts from the observation of the objects that surround me. It talks about the meaning they have for me and the possible meaning they can have for others depending on who, where and how they are contemplated.
The object I presented here was the trigger for this project. It's a figurine that my mother put in all the rooms I've had throughout my childhood. It appeared inside a box, of those forgotten ones and had the head glued to the body with glue. At that moment, I was determined to throw away all the useless and useless things of my past, and this figurine belonged to that class. The fact is that when I threw it in the trash, I felt I was committing a sacrilege…
Thus began my "still lifes" and then… the figurine, fell silent on the floor.
Cristina Llanos lives y works en Madrid. She holds a degree in Fine Arts from the Complutense University of Madrid and a graduate in Applied Arts and Crafts in the field of illustration. He combines his artistic work with that of his heteronym Nikita Rodríguez. His works have been exhibited individually in alternative venues such as Mediodía Chica: "Flying Women" 2010 (Madrid), or Espaço Menosuno: "Broadcast yourself!" 2011 (Madrid) Also in more conventional galleries like the New Gallery "The Pact Secreto "(Madrid) 2015.
---
MECHU LÓPEZ
The world as merchandise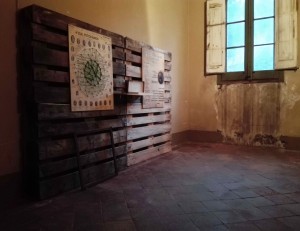 "The concentration of economic power has given international banking and large corporations the possibility to control the mechanisms of the economy for their own benefit, turning it into a speculative casino where they develop very sophisticated financial instruments with those who practice white glove violence "A real financial terrorism that bends governments and democracies when politicians forget their responsibilities and leave the population unprotected against the speculators who take over the markets. The result of an economy in the hands of the financial oligarchy is high indebtedness, low employment and a weakening of the welfare state and the quality of life of the people, with the increase of poverty and inequality, and a world In which the representativeness of democratic institutions diminishes and the voice of the citizenry loses force".
The masters of the world. The weapons of financial terrorism.
External debt, vulture funds, natural resources, raw materials, petrodolares… In the casino of the globalized economy, uncontrolled speculation increases the wealth of some and leads to poverty for many. Speculative fund managers, real estate investment funds and pension plans move millions of dollars between countries in a global financial system where capital moves vertiginously from one market to another taking advantage of the exploitation.
In the installation you can find commodities from JP Morgan, Morgan Stanley and Golman Sachs; Change euros by petrodolares; or leave your signature on the global debt map.
---
GENTE ZAFIA
7-Step Master Plan to Feed the Troll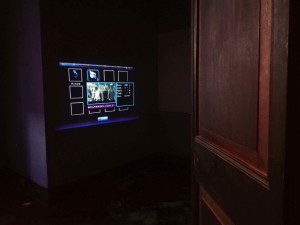 Multidisciplinary project, 2015. Role-playing screenshots and texts. For a few weeks, they adopted the identity of several trolls of their own creation, interacting with each other and the other digital newspapers, infamous forums and twitter, trying to get material to succumb.
This is: feminism, historical memory, independence, bulls.
They do and are allowed to do, documenting the whole process, but very soon they realize that out there, there are people who are serious. This for them.
Also in reference to anonymity, evil and human stupidity or democracy as the great tumor that is.
And especially, something very difficult to raise aloud: DO WE ALL RIGHT TO PUBLIC OPINION?
Gente ZAFIA (1945, 1979, 1983, 2024) we are a love, but we are a bit resentful. We do not know how to stick, and sometimes we do these things.
---
MARÍA CAÑAS (Sevilla, 1972)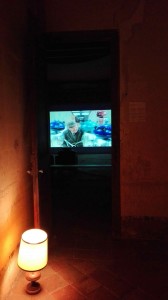 La mano que trina, vídeo 11′ (2015)
Life is what happens while we look at the cell phone. Soon we will not need to read or speak, it will be enough to know how to howl. "La mano que trina" is a sample-rebellion on the dark side of technology, "techno-paranoia", the religion of selfie, "technopathies", digital dementia, programmed obsolescence, e-waste, "posthumanism"…
Out of serie, video 40′ (2012)
An attempt to recreate a visual memory, a kind of tower of Babel made of visions macabre, emotional, romantic, crude, hyper-comic, black humor and white humor, all that fucking specter that has possessed impunity for decades our surrendered retinas and routines. They are many hours watching series, many nights in white and in series. So, let's open ourselves to the charms of that gallery of mirrors, where each series is a face that reflects – and in which we are reflected – our kaleidoscopic psyche.
María Cañas aka La Archivera de Sevilla, cannibalistic audiovisual, collector, mythomaniac, peliculer, cybergarrula, buñuelesca, zensualist, media savage…, his works invite to reflect on the strange mixture of fun and tremendous, lugubrious and sensual imagery that surrounds us, operating in iconographic cannibalism. She is the director of Animalario TV Producciones, a platform for artistic experimentation in various fields: videocreations, video clips, installations, digital image, online television, Internet projects, yoguitech, workshops and cultural management. As well as www.animalario.tv, a container dedicated to the culture of recycling, personal growth and the cultivation of fire inside. Cañas directs his provocative glance towards situations and lives to the limit and works doing videoguerrilla and videoterrorism.
---
JAVIER NUÑEZ GASCO (Salamanca, 1971)
Mediogramodefelicidad 2003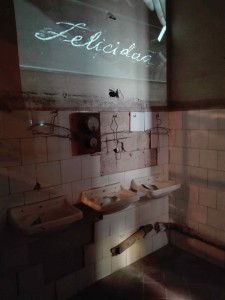 Mini DV; PAL; 5:4; color; s/ sound; 1'55''; loop. Video filmed in a single fixed shot in which the artist writes the word happiness on a glass plate releasing cocaine by the nose.
Javier Núñez Gasco studied in the Faculty of Fine Arts and in the School of Arts and Crafts of Salamanca. He currently lives and works in Madrid. Since 1991 he has held several collective and individual exhibitions of his work in Spain and abroad. His work materializes in different supports such as video, performance, sculpture and photography.
Of the individual exhibitions carried out Out of Act, Espai d'Art Contemporani de Castellón (2015); Improbable Dialogues, Nolugar, Lalín, Pontevedra (2012); As at home anywhere, Madrid (2005); Scenic Fear (promotion), Casa de las Conchas, Salamanca (2012); Three images are worth a thousand words, Utero Land, Lisboa (2010); On Sale, Espai Ubu, Barcelona (2010); Resting pieces (R.I.P …), Gallery Ms, Madrid (2009); Miserias Ilimitados, Lda. Sensitive screens, DA2 Domus Artium 2002 – Centro de Arte de Salamanca (2007); Resting Pieces (R.I.P.), T20 Gallery, Murcia (2006); Happiness, Sicart Gallery, Vilafranca del Penedés, Barcelona, ​​(2005); Records, DA2 Domus Artium 2002 – Salamanca Art Center (2004); Javier Núñez Gasco, Bores & amp; Mallo, Lisboa, (2004); "Leisure and Play", Sala Unamuno, Salamanca, Spain (2002); Virtual, Varro Gallery, Salamanca, Spain (2000).
---
SEM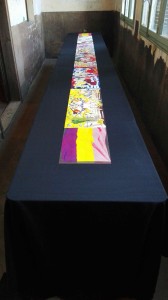 ABOUT SEM
"…In May of 2015 a new SEM appeared. It is done in the same spirit as that published in 1868-69, although the context is not the same. The Crown in Spain is still in force and in Bourbon hands, and in its procedure there are consequent differences. If the first SEM attacked the image of the queen exposing her body as an active agent of the prevailing immorality, understood from the point of view of bourgeois liberalism, something that today we could consider macho and patriarchal and could even make Isabel II As a heroine of female liberation, the present bodies of our monarchs seem to be completely tied to the precepts of that same bourgeois morality. The former queen is a woman of mass and mantilla, who is not known excesses – not her husband – and the former princess appears as a body divided and almost dispossessed body, as a simulacrum of the physical reality they propose the media. Today the Crown scandals have more to do with certain attitudes of neoliberalism and the culture of greed, and yet their symbolic-pornographic exposure, even used metaphorically and in direct reference to recent events, provoke the virulent reaction of the institutions . The Crown tries not to be the object of satire, as it has done throughout its history. But in Democracy, holding a power, any of them, and pretending not to be subject to public criticism or satire appears as a contradiction with very dangerous effects for freedom of expression and the sustenance of many other freedoms. It is up to us, your so-called subjects, to prevent this from happening." Guillermo Espinosa
FULL TEXT OF GUILLERMO ESPINOSA ABOUT SEM
---
GERARD VILARDAGA (Berga, 1977)
QUIMATAQUI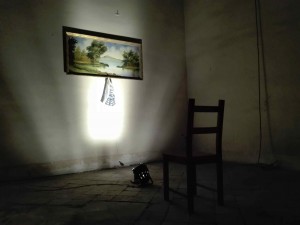 ¿Who lights the wick or who stirs it so that nothing changes?
The 19 of June of 1987 the command Barcelona of ETA places a car bomb in the parking of the Hipercor of Barcelona. Its explosion causes the death of 21 people, the attack with more deadly of the organization.
10 days before the explosion, Herri Batasuna had achieved the best electoral results in its history with nearly 370,000 votes, 40,000 of which in Catalonia alone.
Domingo Troitiño, a member of the Barcelona command, repeatedly warned of the placement of the device to the Guardia Urbana, in the same establishment and in the newspaper Avui. The police decided not to evict the mall. In 1994, the National Court condemned Spain to compensate financially the victims of the attack for their non-performance in Hipercor.
Gererd Vilardaga has a degree in anthropology, a diploma in social work, is an educator, a diver and as an older man, he would like to be James Bond. His first literary incursion would be, was to Teas + of 30 (Teas, 2008). Shortly afterwards, The Convent of the textile: minimal biographies (Ediciones del Albí, 2009) appeared: a book that collects the testimony of women linked to a textile colony of Berguedà. Previously he had worked on the documentary Abandoned City (U. B, 2007) and has also carried out several photographic projects that were exhibited in different places of this country, always with the complicity of Konvent.0. He recites poems along with the noise of Primo Gabbiano and many years ago he won some literary prizes that have not made him rich.
---
RAFAEL BURILLO
With a knife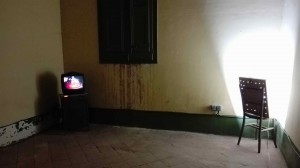 A cuchillo "With the knife" of Rafael Burillo is a piece intended as a live action. As a record of the action, a video of 32 minutes is shown on a small screen located on a high volume amplifier. It is a reflection on the meaning as the barrier that crosses the sound to reach the image.
---
TERESA MARGOLLES (Culiacán, 1963)
Frazada (The shadow)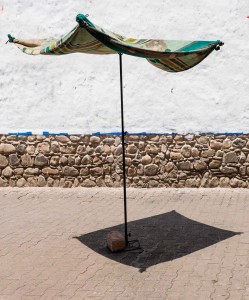 Registration of the action of the positioning in the public space of a blanket mounted on a metal structure of 1.70 high by 1.90 of width, similar to those used in street stalls.
The cloth that projects the shadow contained the corpse of a murdered woman and was recovered from the morgue of La Paz, Bolivia.
Visibility of the shadow is a reference to gender violence. According to the National Statistics Institute of that country 87% of women suffer some type of violence.
La Paz, Bolivia 2016
Teresa Margolles studied Art in the Direction of Promotion to the Regional Culture of the State of Sinaloa (DIFOCUR), Communication Sciences in the National Autonomous University of Mexico (UNAM) and Forensic Sciences in the Mexican Forensic Service. His artistic work focuses on exploring the social causes and consequences of death.
Web
---
PERFECT USERS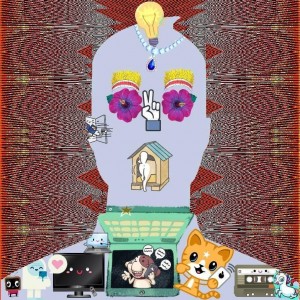 Along with the other artists who have contributed "physical work" to the show, we decided to include a purely virtual project that, therefore, only exists in "the cloud", specifically on Facebook.
It is an artistic group, constituted as a Facebook group, composed of several "virtual entities", since they are profiles of Facebook, which according to the operation of the social network must always correspond with individuals, but in many of these cases It is not like this. The members of this group subvert the rules of use of this business entity, which traffics with the vital experiences of its users, in different ways to get them questioned, mock them and build a nested parasitic "social subnet" within the " Matrix Facebook ".
The identity of the supposed users behind their profiles is constantly changing, as they are publicly announced in their biographies the emails and passwords necessary for anyone to usurp for as long as they want that "virtual personality", even create and re-mix that profile Between a number and identities of them unknown to themselves. If one of the profiles of "Perfect Users" is canceled by the company, the consequent loss of work and connections made so far by any normal user does not occur, and is easily repaired within their particular community.
Of all this activity is a torrent of visual work in generation and constant re-mixing carried out by a "collective identity" in perpetual mutation, carrying out a saturation of images and exchange of communications that in turn become immediately new information without Meaning for the logic of such social network.
Link of the Group of Facebook Perfect Users /// Explanatory text of Perfect Users
Selecting photo albums of Perfect Users members: album_1, album_2, album_3, album_4, album_5, album_6, album_7, album_8, album_9.
---
ACTIVITIES RELATED TO THE EXHIBITION "ART, ACTIVISM AND TERRORISM"
---
PRESS
---
ARA Play 14/10/2016
NACIÓ DIGITAL 14/10/2016 – AIDA MORALES
NACIÓ DIGITAL 28/10/2016
NACIÓ DIGITAL 18/11/2016