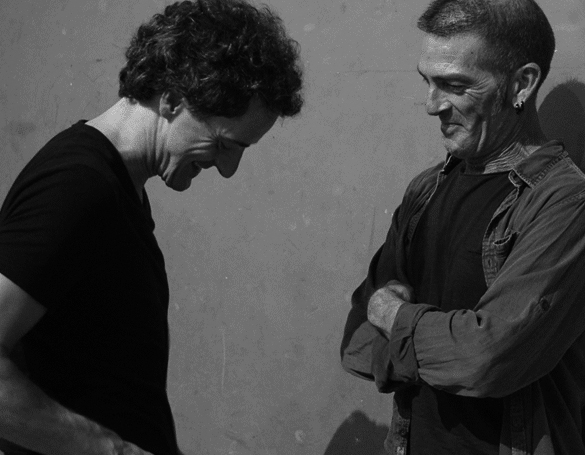 Harkaitz Martínez de San Vicente i Javier Olaizola
28th  OCTUBER 2017
 
HORMAREKIN HITZ EGIN (Parlant amb la paret)
Konvent a l'Antic Teatre Anticteatre.com
Hormarekin hitz egin – Talking to the wall
We're going to the fronton court, but with words; we're going to do pointless things such as hitting boards, the ball hitting the wall, muted sounds, words that are empty or full, it doesn't matter as nobody is listening….
Just like in Basque pelota, there are two of us, two voices – or not….
This time, we're going to talk to the wall, and we're going to listen to its words, which are new, we're going to open our listening ears to create a constructive dialogue…
There are two pelotari (someone who plays hand pelota), just as there are two playing the (wooden) txalaparta, the txakunes, the harriparta (stone txalaparta), the Stone, the tobera (iron txalaparta).
---
Harkaitz Martinez de San Vicente
He has been a Txalapartari (txalaparta player) since the age of 12. He established himself as a professional with the music he created for Nomadak TX. He played with Kepa Junkera for ten years and is now creating with Igor Otxoa Oreka tx
He has taken part in concerts all over the world with musicians such as Pat Metheny, Dulces Pontes, Maria del Mar Bonet, Phil Cunninghan, Carlos Nuñez and Taraf de Haidouks.
Javier Olaizola
He began playing the txalaparta in 1981 at the Hernani school directed by Juan Mari Beltran. In 1985 he created STRONK TX, a txalaparta school based on improvisation and intuition. He worked for 8 years as scenographer and musician with Maite Agirre (actress and theatre director). He has performed txalaparta concerts all over Spain as well as in France, Italy, Mozambique and Malaysia.