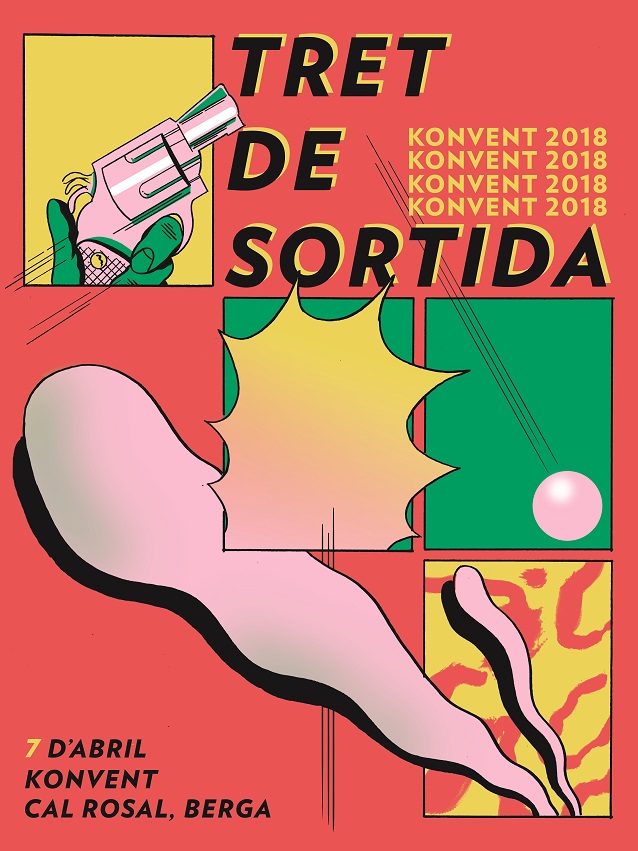 7 Abril 2018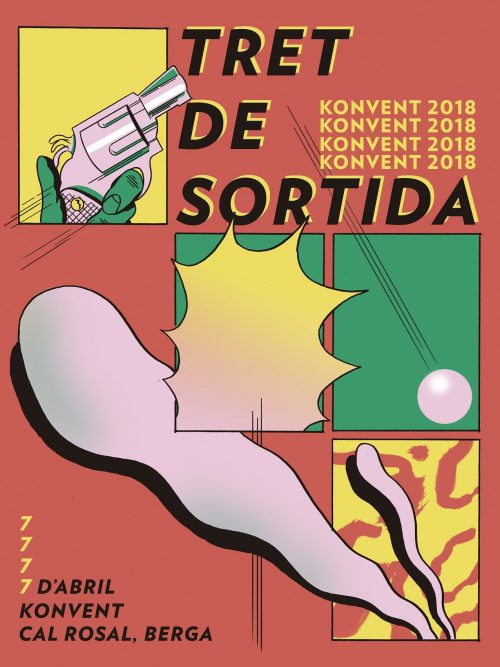 TRET DE SORTIDA
We start the 2018 cultural season with spring by thinking and talking about the present of art, with more than a dozen of promising artists of different disciplines. From performers to illustrators, from dancers to sculptors, from cyborgs to 3D musicians, from singers to poets, and from the subject to the artistic personae: twenty artists will concentrate this weekend in Konvent in an art residence format, with a bit of creative laboratory and some debates.
This artistic curation – blame Joan Manel Pérez, Manel Boixadera and Vignesh Melwani for it- flows out from this gathering-show to talk, from an experiential ground, about the young artist of the 21st century. We gather with them to approach some of the possible truths about the shadows that accompany every artist, but particularly to those that arise nowadays: a mass society that relegates creativity to a secondary level of spectacle, a massive and superficial consumption of culture, some still rigid models of success, the incomprehension of the new technologies, a still latent ethnocentrism, etc. Because reality is dynamic, and sometimes it's needed to stop and observe it. Because the dogmas of a silent past aren't useful for a living and deafening present. Let's clarify and direct the future of art out of the present.
Cris Cris & Trampas Kid
Berni Puig
Toni Molins
Adrian Pino Olivera
Aina Lizarza Solana
Gerard Erruz
Simbiosi (Marc Vilajuana & Bru Ferri)
Slim art
Oriol Sauleda & Neus Borrell
Manel Muñoz
Duna Vallès & Blanca Utrillas
Mireia Moliné
Sara Lorite
Pol Rocart
Neus Masdeu
7th April Program
1.30 PM  Opening for public – Lunch.
4.30 PM Presentation, dialogue and debate between artists and public.
6 PM Inauguration of the exposition and piscolabis for Konvent 2018's aperture
7 PM Live arts shows (with a pause for dinner)
11.45 PM DJ Session
"As young beings that have chosen a creative career in today's society, how do we deal with the path of a career in the professional world? What path does it require in a busy world that relegates creativity to a complementary background? To what extend shall we plasticize or tear our art work – so ours, so intimate – for it to be considered as a profitable product? Let's ask ourselves: what is success? What is the success we want? Do we look for stability? Recognition? How is the art we want? We want to bang the table to relocate things to their place. We've found almost everything done and it seems as if we had everything easy and ready, as if maybe our job is to undo it … But we are here to build, and we want to share it. We refuse to expose ourselves as buffoons of the cultural production. "