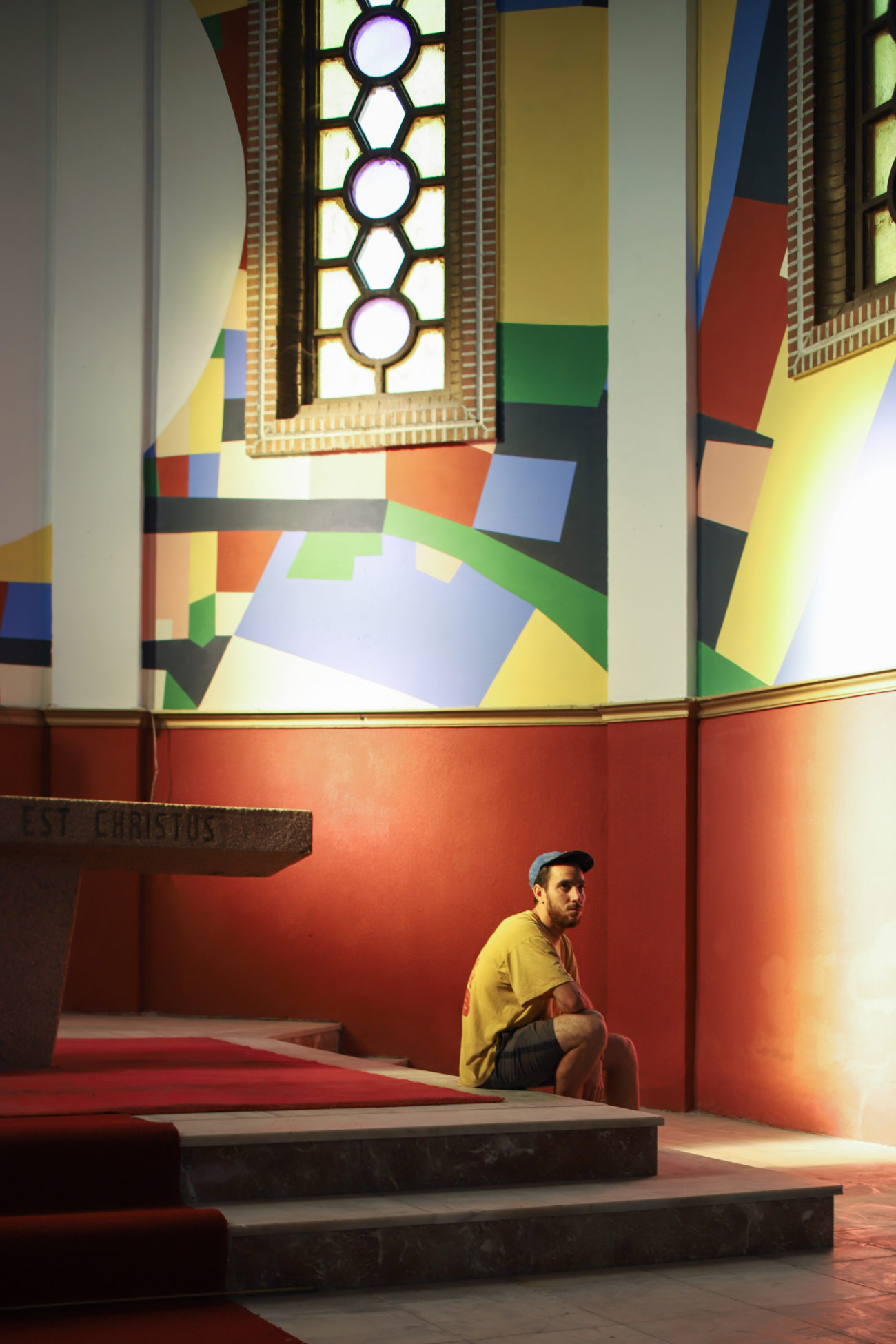 BERNI PUIG, KONVENT ARTIST,
TRANSFORMS PENELLES' CHURCH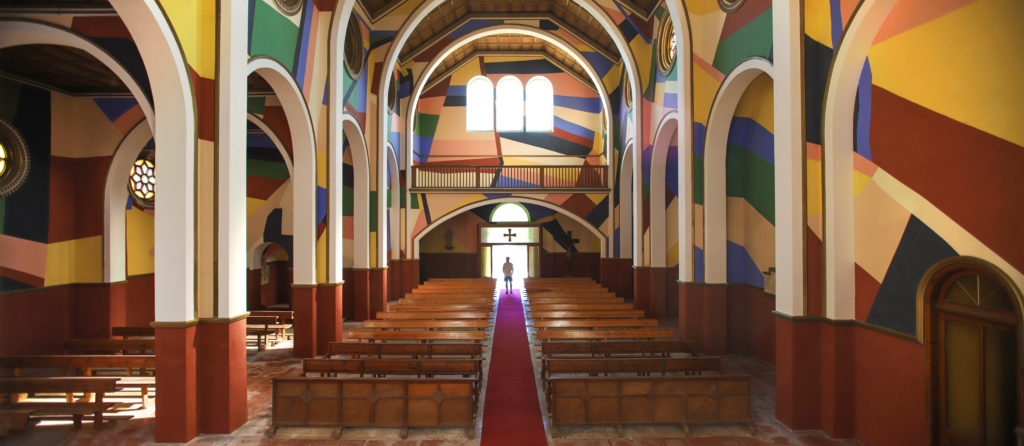 Berni Puig, Konvent artist, intervenes Penelles' church with a large-scale mural
The new church of Sant Joan Baptista de Penelles (La Noguera) re-opens its doors with a large-scale mural created by visual artist Berni Puig. It's one of the first Catalan churches to be intervened by a contemporary artist, fact that opens the door to resignifying art in spaces of worship.
Omnipresent is a pictoric reinterpretation of the map of Penelles and its surrounding territory which covers all the inside walls of the parish church. By painting with a bird's eye view, the artist has seeked to render homage to the agricultural territory, it's workers and sowers of the earth and its history. Each wall of the church intervened corresponds to a different fragment of the map where the limits of each crop field, the canal and the small buildings found in the area. The resulting work is a unique and original colourful mosaic that explains how the inhabitants and neighbours of Penelles have intervened in the area throughout the years.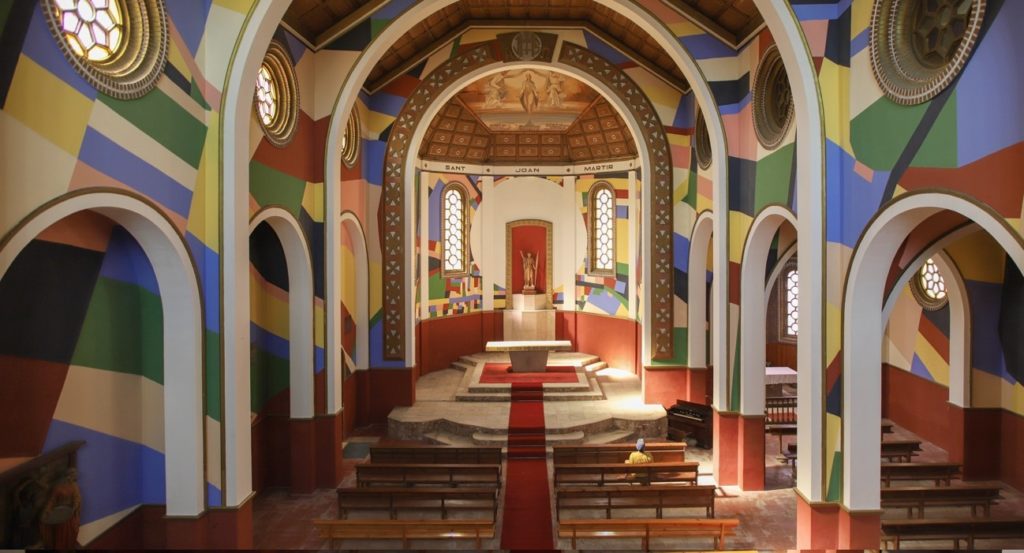 The project, coordinated by the Town Hall and Gargar Festival,  has been financed with a government grant destined to the rehabilitation of the church and with monetary donations from the inhabitants of the village. The inaugural act will take place during the month of august, within the frame of Gargar Festival. During the event there'll be live music by Bru Ferri and Valentina Risi, also Konvent artists, and a recital of an unpublished work by poet and writer Martí Sales.
Berni Puig (Manresa, 1990) is a visual artist. In his work he uses geometric shapes and primary colors to create compositions that search for the limits between figuration and abstraction, with the goal that the spectator completes the work through their own imagination, play or interaction with the piece. The artist is a member of Konvent Culture and Art Centre of Cal Rosal (Berguedà), a creative space that breathes new life into disused industrial heritage and fosters
artists and projects from all over the world. The fact of living and creating outside of the city has brought the artist to become interested in and vindicate culture and artistic interventions in rural areas.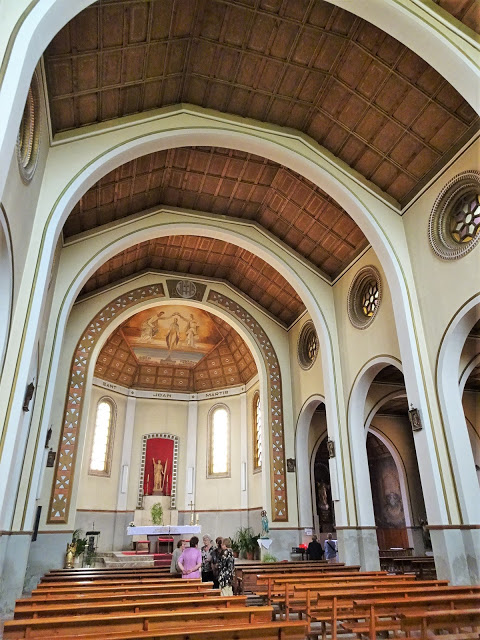 The Gargar Mural and Rural Art festival is an initiative that seeks to disseminate artistic culture in rural environments, making Penelles an example by getting its inhabitants involved and boosting tourism. The festival was created from the need and intention of providing a distinguishing added value to the village of Penelles, boosting and making visible street art and other artistic interventions in rural public spaces. Gargar is an open and popular festival obert that blends muralism and music and workshops of other artistic disciplines and this year celebrates its fifth edition.
Berni Puig: Bernipuig.com  / Instagram
Press Contact: Laura Cardona +34 627700752 / laura.konvent@gmail.com
Photographies: Anna Benet  Instagram