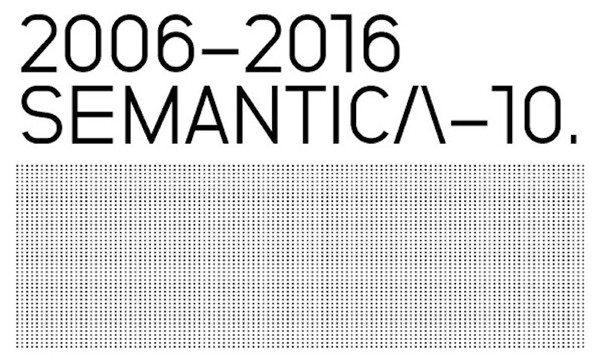 2006 – 2016
SEMANTICA 
October, 31st 2016 
         Respect has achieved Svreca with Semantica Records over the last ten years, Svreca can count on a long list of over 70 references published by a number of leading artists of the global techno scene.
To celebrate the anniversary and confirm the good health of Svreca label has released Semantica -10, ten references during 2016 with a handful of already common label artists and some new additions: Regis, ERP, Voices From The Lake, Surgeon, Silent Servant, Peter Van Hoess, Donato Dozzy, Vril, Acronym, Abdulla rash, Jonas Kopp, Stanislav Tolkachev, SHXCXCHCXSH, Cio D'Or, Etapp Kyle, Varg, Plant43, Claudio PRC, Neel, Cassegrain, IORI, Oscar Mulero, Dj Nobu Marco Shuttle, Skirt, Edit Select, Yves de Mey, Nuel, Andreas Tilliander, Giorgio Gigli, Eduardo de la Calle, Arcanoid, Polar Inertia, Retina.it, Wata Igarashi, Evigt Mork, Ideograma, Doka, Mod21. A true "all star" of the current electronics that provide safe Ambient, IDM and Techno premium.
In addition, also during this 2016 Semantics it is made a "World Tour" with different Showcases of Semantica by different clubs around the world and very refined form chosen by the same Svreca. Today it has already gone through the Club Unit of Tokyo, Toopcafe in Kansai and Stardust Madrid. It makes special illusion that Svreca has also chosen the Konvent as a space to celebrate the anniversary and return to one of his favorite places. We must also remember that one of the main points of inflation pass through the precious "For Your Eyes Only" album dedicated directly to Konvent and had a before and after in recognition of Semantica Records.
Semantics 10 at Konvent will be on October 31, the event will start in the afternoon and will open spaces for the occasion. The night will be a true celebration with Svreca, Acronym (live) and our La Comunidäd resident Samuel M.
Congratulations Semantica Records!
Make progres every day!
CAPELLA TARDA
17:00h-19:00h Esmeril (La Comunidäd Gironella)
19:00h-21:00h Droneghost LIVE / DJ (Circular Limited)
CAPELLA NIT
23:59h-02:30h Samuel M. (La Comunidäd Gironella)
02:30h-03:30h Acronym LIVE (Northern Electronics)
03:30h-Final Svreca (Semantica Records)
KONVENT BAR
02:00h-05:00h Fuyuki Shinohara (Discos Paradiso)

AUDITORI
17:00h,18:30h i 20:00h
BEATZ Divergences & Contradictions of Electronic Music
A documentary by Eduardo de la Calle
VO Subt. 72″