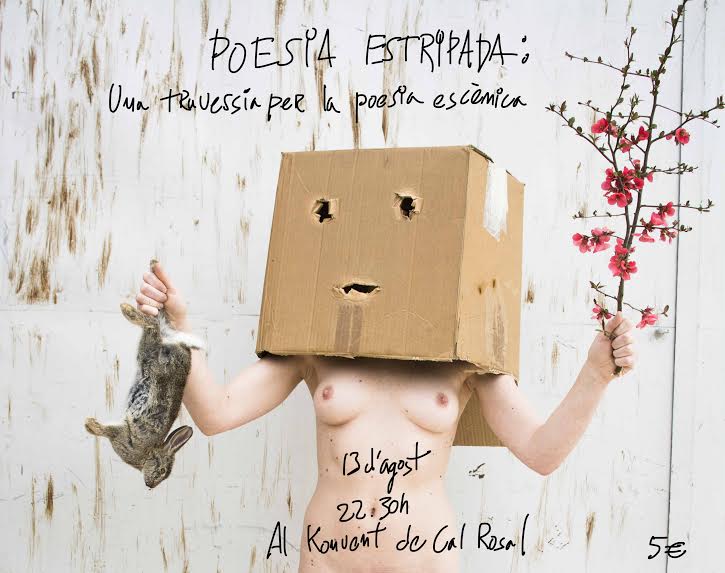 GERARD VILARDAGA / IRIS HINOJOSA / JORDI PLANA / ROGER MAS / MARTÍ SALES / NÚRIA MARTINEZ / JORDI MURILLO / MARC TRILLA / PEP RUZ / MERITXELL CUCURELLA / TONI TRASHTORNO
13 Agost 2016 – 22:00h – 5€
          Poesia Estripada (Ripped Poetry) is a journey through the hybridization between poetry and different artistic disciplines that conjures to perform together. Word, action and devotion from the hand of four unique offers that will tour around the historical building in order to broke the atril and some schemes:
Perfection is fascist: This is the shouting of a sort of poems from berguedan Gerard Vilardaga with the scenographic collaboration of the actress Iris Hinojosa, the musician J. Savagge and the artist Pepe Ruz. A dynamic and participative piece where is searched the panic to the mistake in the stage.
Recuerdos de Ceylán: Jordi arrives and without plastic gloves he puts his hands in the cow's vagina, caresses the calf, looks for its leg and then he put it out. A very cinematography vision of his life. Jordi Murillo, a.k.a. J. Savagge is member of 25HOMBRES. He will present, or not, his poetry collection self edited, Recuerdos de Ceylán, on the Land Rover of the photographer Marc Trilla from Solsona with Pepe Ruz (Manubrio/25HOMBRES) sonor accompanying.
Martí Sales i Núria Martínez: Two time bomb. Will present Alcohols, a recreation of anonymous alcoholics. Texts that talks about drinking and all perspectives.
Roger Mas i Jordi Plana: Visual pornography. A visual, musical and poetic show.
Meritxell Cucurella i Toni Trastorno: Word, sound, broken schemes and vibration.