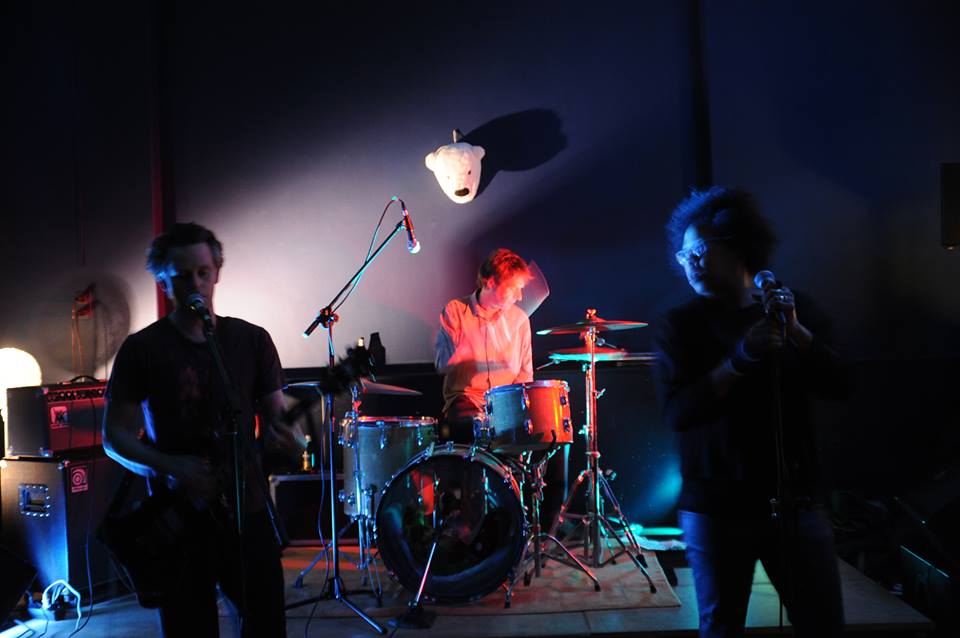 KANIPCHEN FIT (Holland
Sunday 4th desember 2016 – 19:00h – 5€ 
         Kanipchen-Fit is one of that bands that fits so well in Konvent. Noisy, raucous and whole-hearted three-piece band with Empee Holwerda (NL, ex- of Dutch bands Lul and Solbakken, former interviewer for VPRO tv programs Geen Commentaar/Top Man) on guitar and vocals, and vocalist, performance artiste/poet Gloria (US, artist, poet, ex- of the Pussy Poets, NYC), now with drummer, Frankie (Frank Sloos, NL, ex- for Dutch bands Treble Spankers, Big Paulus among others). 
Their strong suit is making an intelligent and inspiring racket. The songs are simple and straightforward, double vocals, a rough and loud guitar, and drums, but with unexpected rhythmic and harmonic changes, avoiding rock-clichés. Shifting from aggressive pieces to melancholic songs, with lots of funky moves in between. They groove to Nina Simone, Shuggie Otis, Bad Brains, New Bloods, Trash Kit, Pyramids, X-Ray Spex, and ESG.
In 2012 Kanipchen-Fit played Beeckestijnpop in Holland and at the Nieuwe Anita, Occii, previously Crossing Border Festival (Den Haag), Paradiso and other clubs in Amsterdam. Have played in US, NYC (including CMJ, for Subbacultcha!), Holland, France, Spain, Italy, Germany, Macedonia, Serbia and Croatia. They have also opened for Blurt (UK), Wire (UK), and The Ex (NL). 
Kanipchen-Fit takes on very diverse subjects like prison entertainment, heroic alcoholics, torture on the radio, and late night braggadocio. They released their CD "Multibenefit" in 2010, distributed by Konkurrent, and 7″ with Zea (NL) in 2009 released by Makkum/Red Wig. They are hoping to release their next CD this year!