27 de juliol 2019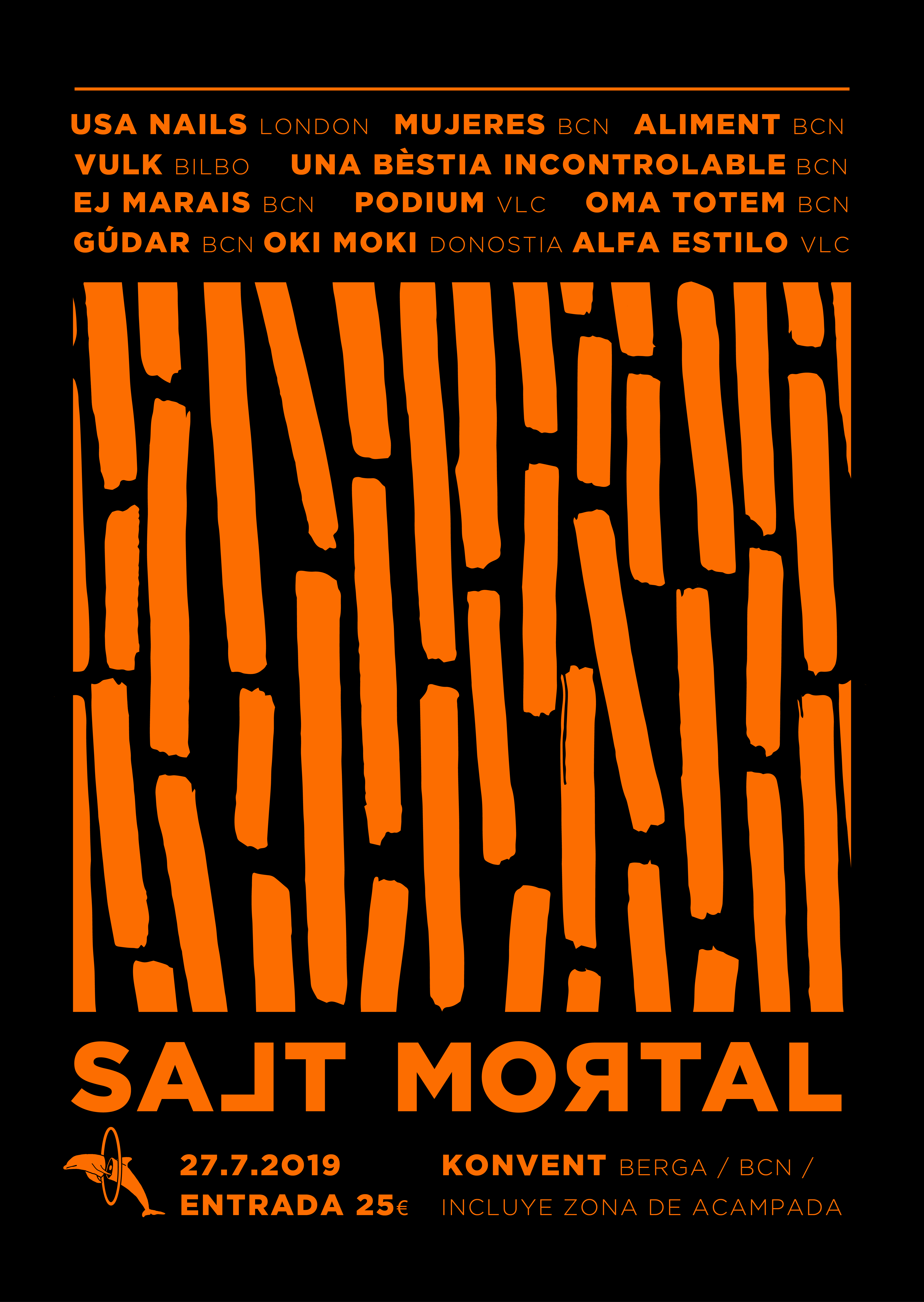 SALT MORTAL
Salt Mortal 2019
27 de Juliol 2019
Konvent
USA NAILS
London
https://www.facebook.com/usanailsband/
Adjunto text d'ells.
TIPS:
Ara han estat de gira amb Metz, han tocat amb IDLES (bona relacio).
London based USA Nails release their fourth album "Life Cinema" on May 10th 2019 through Dipped In Gold Records (UK), Bigout Records (France), and Hex Records (USA).
In the past year, USA Nails have toured the USA and Europe, played Best Kept Secret Festival [NL], Label Mates [UK] and La Ferme Electrique [FR], shared stages with the likes of Viagra Boys, Cocaine Piss, and Unsane, and recorded a live session for Radio X (London). In addition to the release of their new LP, the coming months will see them tour mainland Europe and the USA again, and also make appearances at, Insert Name Festival [Be], Raw Power [UK] and Cardiff Psych Fest [UK].
"Life Cinema" was tracked live at Bear Bites Horse in London. With the help of producer Wayne Adams, they have created a record that is raw and gritty, while still being rich with both melodic and lyrical hooks. On it, they rave about pointless jobs, wannabe artists, social anxiety, offices that have fridges with beer in them and Epsom.
USA Nails have weaved together their no-wave, post-punk and noise rock tendencies to create something entirely unique. "Life Cinema" is a clear step forward artistically, but is still full of the vigour and intent for which they are renowned.
Notes to editors:
USA Nails spent their younger years being the most unpopular members of bands that some people liked including – Kong, Oceansize, Silent Front, Death Pedals, Future of the Left and Dead Arms.
USA Nails may appeal to fans of Wire, The Fall, Devo, Pissed Jeans, Wire and early Sonic Youth.
USA Nails is Tom, Dan, Gareth, Steven.
Life Cinema was recorded by Wayne Adams at Bear Bites Horse (Pet Brick, Skinny Girl Diet, Death Pedals, Shitwife, Yards, Palehorse, Nitkowski, Art Of Burning Water) in October/November 2018.
All artwork and packaging for Life Cinema was designed and created by Matt Reid.
VULK
Bilbao
https://www.facebook.com/VULK.VULK.VULK/
MUJERES
Barcelona
https://www.facebook.com/mujerestheband/
Mujeres are: Yago (guitar, voice), Arnau (drums) and Pol (bass).
Mujeres started playing in 2007, releasing a demo and gaining instant hype in the local Barcelona scene. Following the steps of Velvet Underground, Los Saicos, Black Lips,
Jacuzzi Boys, Thee Oh Sees and the likes, Mujeres gained some recognition as one of the garage bands from Spain to consider.
Since 2007 the band has been touring Spain, Europe and the United States and has released three albums and several EPs. Soft Gems (the second record) and Marathon (the third one) were released in Belgium and France, achieving a strong follow-up during their European tours.
Their fouth LP is now out for everyone's pleasure. Un Sentimiento Importante brings the band to their more pop oriented side. Now a trio, the band focuses on clean pop acts, fist rising choruses and slowed down emotional ballads, breaking away from the more revival sounds; and yet, it rocks.
This album is the first long play sung entirely in spanish (following their first full experience in their native language on the Aquellos Ojos EP). Un Sentimiento Importante contains ten songs about friendship, harsh times and the sense that everything's gonna be allright in the end.
It also showcases the band at their most self-conscious moment. After 10 years of guitar smashing and sweat pounding the band has finally took a long look at their own history and found that the only way they know how to do things is to just keep
ALIMENT
Barcelona
https://www.facebook.com/alimentband/
aliment.bandcamp.com/album/brother-2
UNA BÈSTIA INCONTROLABLE
Barcelona
https://www.facebook.com/unabestiaincontrolable/
unabestiaincontrolable.net
OMA TOTEM
Barcelona
https://soundcloud.com/omatotem
Membre del col·lectiu Draft i dj resident al Nitsa Club

Oma Totem és membre del col·lectiu Draft, un grup d'amics que fan de promotors a diferents clubs de Barcelona, com son el Red58, Nitsa i Razzmatazz. Tot i l'amor que tenen per la música de club també presenten un programa de ràdio a

dublab.es

on sona tot tipus de música. A part d'això també és resident del Nitsa Club a Barcelona.
PODIUM
Valencia
https://podiumpodium.bandcamp.com/
TIPS: Gent de La Plata i Cuello
ALFA ESTILO
Valencia
https://www.youtube.com/watch?v=i0Y4v-wd1fo
TIPS: Gent de La Plata i Futuro Terror
EJ MARAIS
Barcelona
https://www.facebook.com/EJJmarais/
https://www.youtube.com/watch?v=L_MOXyLnkjo
TIPS: Ha estat girant amb Delorean EJ Marais, nacido en Brighton y residente en Barcelona es el proyecto musical de Ed
Marais. En 2015 sacó su EP debut en el que combina elementos del folk americano con tintes de pop de los 80.
Sus producciones recientes se alejan del sonido clásico y le han llevado a explorar el mundo de los Beats contemporáneos, el autotune y los adlibs propios del R'n'B.
A principios de 2018 empezó a trabajar en su nuevo disco junto a Ekhi Lopetegi quien le ayudará a combinar sus baladas a piano y voz con elementos de la producción moderna, utilizando ritmos sampleados, pads atmosféricos y percusiones y líneas de
bajos que parecen sacadas de una canción de trap.
"Love.mp3" (Twin, 2019) es el ejemplo perfecto de esta fusión y se presenta como un avance de su álbum debut que verá la luz en los próximos meses.
GÚDAR
Barcelona
https://www.facebook.com/gudar.baixllobregat
https://hijauhusb.bandcamp.com/album/g-dar-auf
TIPS: Gent que esta radera del Hi Jauh USB
OKI MOKI
Donostia
https://www.facebook.com/okimokiband/
https://okimoki.bandcamp.com/releases